InTRODUCTION
The Human Voyage LLC has its own Hutag-Undur tourist camp, located on the bank of Selenge river, Hutag-Undur soum, Bulgan province driving 580 kms from Ulaanbaatar city via Erdenet and Bulgan by the highway of Millennium Road, Government Program to Murun, Huvsgul province.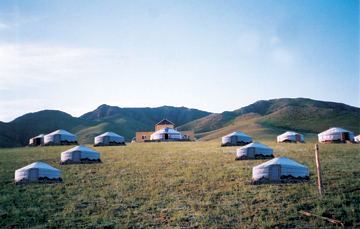 On your way to Huvsgul lake after you enjoy visiting Amarbayasgalant Monastery or opposite way there is the amazing overnight at Hutag-Undur camp on the bank of Selenge river where you can spend leisure time on hiking, horseback riding, boating, driving, fishing and visiting local nomads to see their heritage and unique life tradition.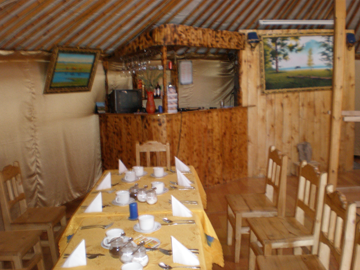 Visiting Mongolia you enjoy:
Ulaanbaatar – Capital city


The capital of Mongolia is Ulaanbaatar city which was historically known as Urga and established in 1639 as well as you can enjoy visiting Gandan Monastery – Buddhist center of Mongolia, Sukhbaatar square – main square where the Parliament and Government house and Winter Palace of Bogd Khaan, Mongolia's last king Javzun Damba Khutagt VIII, built in 1893.


Huvsgul lake


Huvsgul province, located in the Hangai mountain range in north western Mongolia, unique compared to other parts of Mongolia. Many ethnic groups live in Huvsgul; Halh, Darhad, Hotgoid, Urianhai, Buriad, and it's the mother land of Reindeer Families "Tsaatan". It's the place where Heaven and Earth worshiping Shamans are still very powerful.


Gobi desert


In the Gobi desert tourists can view vast sand dunes, great Canyon the Glen of Condors, sigh herds of antelopes, khulans /wild horses/, argali /wild sheep/, snow leopards or ibex, visit hospitable nomads who herd the livestock or witness the flaming red cliffs where Roy Chapman Andrews made the discover of dinosaur fossils. The sights are truly endless, but one of great highlights for the tourists is camel riding in the scenic Gobi Desert.


ERDENE ZUU monastery



In 1586 when the Mongolian Khan Abtaisain returned home from his long pilgrimage to Tibet, he founded the first Buddhist monastery for its beauty it was named Erdene zuu or Hundred Treasures. Erdene zuu was the first Buddhist monastery in Mongolia. It is surrounded by a monumental wall with 108 stupas measuring 400x400 meters. Each of the four sites of the wall has a tower gat.